SOUTH SULAWESI (CELEBES) TOURS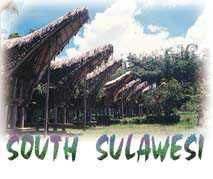 Visit :
North Sulawesi (CELEBES) Tourism
Central Sulawesi (CELEBES) Tourism
South Sulawesi (CELEBES) Tourism
South East Sulawesi (CELEBES) Tourism

Download High-Res :
NORTH CELEBES MAP
TANA TORAJA - A Land with Charm
---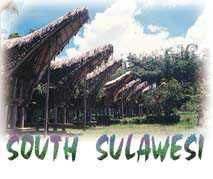 Tana Toraja (Toraja Land), a unique mountain are in the northern part of South Sulawesi, is one of the places in Indonesia which leaves a lingering im pression on the traveller's mind long after they have returned home. It is famous for its unique fascinating culture and ancient traditions, and is one of the world's rare treasures.
Most interesting are the grand burial ceremonies lasting for days with ceremonial dances and sacrificing of animals. The Torajan lay their dead to rest in graves and tombs in accordance with the tradition. These tombs are chiselled and carved in steep cliffs, stretching up dozens of metres. People have access to these tombs by climbing up bamboo ladders. In some of these tombs they put wooden effigies of the dead.
There are many of such graves in different mountains. Two cliffs graves easy to reach are LEMO and LONDA. There are many other interesting sights in Toraja. Like typical Toraja villages PA'LAWA, SIGUNTU, MARANTE' and NANGGALA where you can see the Torajan houses. The houses are beautifully decorated with carvings of geometric designs, and with buffalo horns that indicate the status and wealth of the family. You can also see how the Torajan make lovely handicrafts or traditional weaving in KE'TEKE'SU and TO'BARANA. This unique culture, the scenic beauty, lovely climate and gentle people are the main reasons for Toraja to gain prominence as a tourist destination in spite of its distance from any major airport and the long journey that has to be made.
TANA TORAJA STOP OVER : S/0-001
A short trip to TORAJA which will give you an exciting experience.
Day- 1 (L-D):
Directly from Hasanuddin airport, UJUNG PANDANG, proceed to TANA TORAJA by MERPATI flight. Arrive at PONGTIKU RANTETAYO, Toraja and transfer to your hotel. Then visit LEMO, PALAWA, TO'BARANA and LONDA.
Day - 2 (B-L):
Drive back to Hasanuddin airport, UJUNG PANDANG, to catch your afternoon flight for your next destination.

---

TORAJA EXPERIENCE : SIC - OO1
4 days - 3 nights
A tour of many interesting places to give you an unforgetable experience. Every place you'll see has its own amazing attraction.
Day- 1 (D):
After meeting service at Hasanuddin airport, drive by minibus for 9 hours, through scenic natural places to TORAJA. Late afternoon arrival, and overnight at hotel in Toraja.
Day- 2 (B-D):
Visits to LEMO, SUAYA (royal tombs), SIGUNTU, KE'TEKE'SU and LONDA. Overnight at hotel.
Day - 3 (B-D):
Visits to PALAWA and TO'BARANA (Toraja weaving). And also to the villages of MARANTE' and NANGGALA in the afternoon. Overnight at hotel.
Day - 4 (B):
Return to UJUNG PANDANG directly to the airport.


VideosTravelGuide.com : Find on here thousands of Videos from many interesting places from around the world