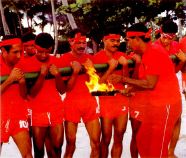 A lingering experience of the beautiful and fascinating island.
Day- 1 (D):
From PATIMMURA airport, you'll be transfered to your hotel. In the afternoon you'll enjoy a sightseeing tour, covering visits to the memorials of PATIMURA and CHRISTINA MARTA TIAHAHU, the war cemetery at KAPAHA/ TANTUI and a visit to the SIWA LIMA Museum.
Day - 2 (B-L-D):
On the way to LATULAHAT, a stop will be made at the Provincial Museum, then a visit to WAEMAHU to see the clove art factory, proceed to NAMALATU Beach for shell collecting or refreshing swim. In the afternoon, proceed to WAAI where if you are lucky you will have a glimpse of the sacred eels before continuing to HUNIMUA Beach.
Day- 3 (B):
Free morning until transfer to the airport, but there might still be some time to shop for souvenirs.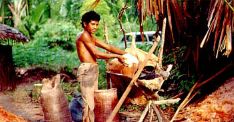 Day- 1 (L-D):
On arrival in AMBON, you will be met at Pattimura airport, transfer to your hotel. After lunch, visit WAISELAKA POND in WAAI, its clear cristal water inhabited by holy eel, The Crazy Bamboo Performance. Dinner and overnight at your hotel.
Day- 2 (B-L-D):
After breakfast, Ambon city sightseeing, visiting Traditional hand weaving, SIWA LIMA museum, After lunch observe "SAGO BAKING" while you have the opportunity to taste sago cakes with a cup of hot tea or coffee. Back to hotel for dinner and overnight.
Day - 3 (B-L-D):
After an early breakfast, depart to TULEHU transit harbour joining a motor- vessel. A sea voyage passing HARUKU island to MARIA transit harbour in Saparua island. Straight to BOOI village visit the old church, full on woodcarvings, and walk up and down through the village of stepping stones. Trip continue to WAIHENAHIA, white sandy beach and on the way short stop to visit DUURSTEDE fortress. You have the opportunity for a traditional lunch at OUW village observe poterry and later watch how they destill the traditional GIN from palmwine. Back to SIRI SORI HOTEL for dinner. After dinner observe traditional dances and music you can join the dance and participate with the villagers.
Day - 4 (B):
After breakfast, there's still time to observe wicker works; how they make SAGO BASKETS and SAGO LEAVE KNITTING. After lunch leave SIRISORI for MARIA transit harbour. A sea voyage back to Ambon then direct to Ambon Pattimura airport for your afternoon onward flight.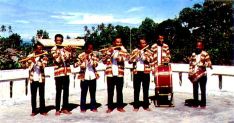 An adventure to the natural beauty of the deep blue sea.
Day- 1 (D):
From BANDA NEIRA Airport, you'll transfered to your hotel. Enjoy a city tour on foot visiting FORT NASSAU and BELGICA, the Mini Palace, house of exile for the well-known Indonesian leader Hatta, and also the local museum.
Day- 2 (B-L-D):
Following a half-day boat cruise visits BANDA BESAR and GUNUNG API volcano, you'll have the opportunity to see the remnants of FORT ROTTERDAM, the nutmeg factory and plantation as well as swimming/snorkeling at BATU SEMBAHYANG Beach (the Praying Stone Beach).
Day- 3 (B):
Leave the BANDA NEIRA for AMBON and then on to next destination.