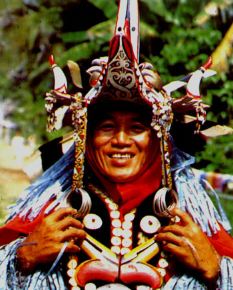 Day- 1 (D):
On arrival you'll be met at the airport of BALIKPAPAN for the drive to the village of LOA JANAN on the banks of the MAHAKAM river to board the river boat then direct proceed to MUARA MUNTAI, stop will be made in TENGGARONG for boat permit purpose. Dinner and overnight on the house boat (The facilities on board are simple adequate).
Day - 2 (B-L-D):
Early morning arrival at MUARA MUNTAI, a unique wooden village where even the roads are made of wood. If water high enough, then you will cruise on the same house boat to TANJUNG ISUY across JEMPANG LAKE and will overnight on the house boat. However, during low tide, you will use a motorized canoes to cruise TANJUNG ISUY and will overnight at Long House. Losmen Wisata, or Local House. Colourfull dressed dancers of the BENUAQ tribe will welcome you with a ceremonial dance in front of their traditional long house.
Day- 3 (B-L-D):
Half day excursion, visiting Dayak Village, Mancong to see the replica of Grand Long House. Again, if water is high enough, you will be using a motorized canoes throughout the small river OHONG, with luck, perhaps you can see the Bekatan, the typical Kalimantan monkey with long nose in the jungle. On the other hand, you will have to ride on the truck or motor bike whenever water is low. Return to MUARA MUNTAI, and embark to your house boat then continue up Mahakam to Melak. dinner and overnight on board.
Day - 4 (B-L-D):
Morning arrive at Malak, visit local market and by truck going to KERSIK LUWAY NATURE ORCHID FOREST (bloming time seasonal), jungle walk, waterfall at AMBAUASA. Lunch on board then down river to MUARA BUNJUT to observe OLD LONG HOUSE of TANJUNG TRIBE. Return to your house boat then continue up MAHAKAM to TERING DISTRICT of LONG IRAM. Dinner and overnight on board.
Day- 5 (B-L-D):
Arrive TERING, visit BAHAU TRIBE with its unique Tatto and some of the old generation still keep their longears. A HUDOG performance with their typical MASKED. Return to your house boat then down river to TENGGARONG. All meals and overnight on board.
Day- 6 (B-L-D):
In TENGGARONG you'll visit The Museum (before it was the Palace of Kutai Kingdom), the royal cemetry. Breakfast and lunch at the House Boat. Arrive LOA JANAN transfer to your hotel in Samarinda or Balikpapan. Dinner and overnight at hotel.
Day- 7 (B):
After breakfast at the hotel, transfer to Sepingan, Balikpapan airport for your onward flight.